Iceland Airwaves 2018
Reykjavík
7. nóvember 2018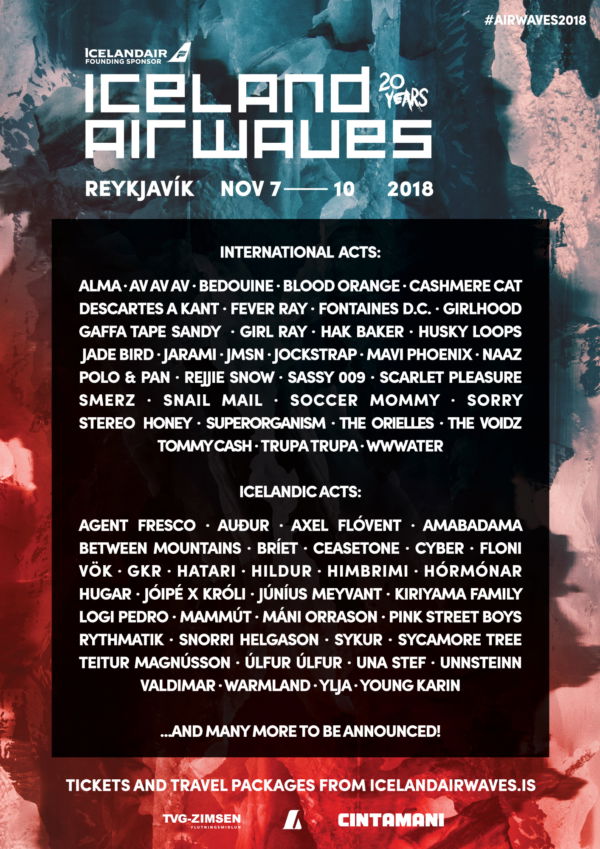 Iceland Airwaves 2018 takes place this November 7-10 across downtown Reykjavík.  One ticket brings you four days and nights of international and Icelandic music.
More than 65 acts from over 13 countries have been announced, including Fever Ray, Cashmere Cat, Alma, Blood Orange, The Voidz, Vök, Hatari with many more to come!
Celebrating its 20th year, Iceland Airwaves 2018 highlights the newest and best musical from home and all around the world.
Early Bird tickets are on sale now for a strictly limited time. See you this November! All info here: www.icelandairwaves.is
+ Lestu meira
INTERNATIONAL ACTS ANNOUNCED
ALMA (FI)
AV AV AV (DK)
BEDOUINE (US)
BLOOD ORANGE (US)
CASHMERE CAT (NO)
DESCARTES A KANT (MX)
FEVER RAY (SE)
FONTAINES D.C. (IE)
GAFFA TAPE SANDY (UK)
GIRLHOOD (UK)
GIRL RAY (UK)
HAK BAKER (UK)
HUSKY LOOPS (UK)
JADE BIRD (UK)
JARAMI (SE)
JMSN (US)
JOCKSTRAP (UK)
MAVI PHOENIX (AT)
NAAZ (NL)
THE ORIELLES (UK)
POLO & PAN (FR)
REJJIE SNOW (IE)
SASSY 009 (NO)
SCARLET PLEASURE (DK)
SMERZ (NO)
SNAIL MAIL (US)
SOCCER MOMMY (USA)
SORRY (UK)
STEREO HONEY (UK)
SUPERORGANISM (UK)
TOMMY CASH (EE)
TRUPA TRUPA (PL)
THE VOIDZ (US)
WWWATER (BE)
ICELANDIC ACTS ANNOUNCED
AGENT FRESCO
AXEL FLÓVENT
AUÐUR
AMABADAMA
BETWEEN MOUNTAINS
BRÍET
CEASETONE
CYBER
FLONI
VÖK
GKR
HATARI
HILDUR
HIMBRIMI
HÓRMÓNAR
HUGAR
JÓIPÉ x KRÓLI
JÚNÍUS MEYVANT
KIRIYAMA FAMILY
LOGI PEDRO
MAMMÚT
MÁNI ORRASON
PINK STREET BOYS
RYTHMATIK
SNORRI HELGASON
SYCAMORE TREE
SYKUR
TEITUR MAGNÚSSON
UNNSTEINN
ÚLFUR ÚLFUR
UNA STEF
VALDIMAR
WARMLAND
YLJA
YOUNG KARIN
Next announcement is coming in late May, stay tuned!